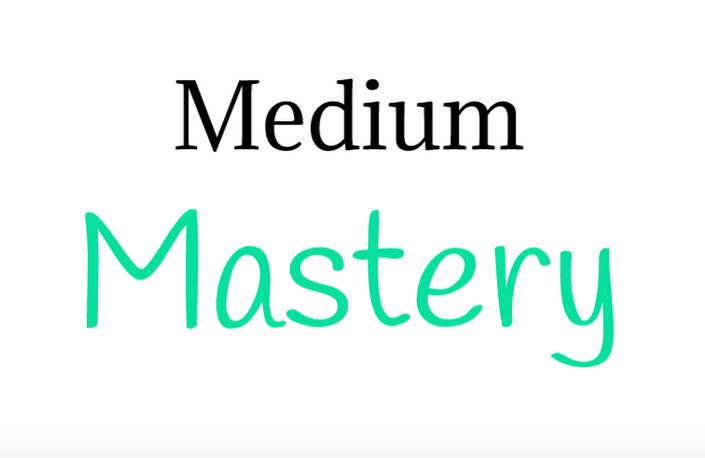 Medium Mastery 2.0: Make Money On Medium; Build An Audience Of Thousands
From 0 followers to $500+ per month.
Enroll In Course
How would you like to be able to travel, meet other badass people, and make six figures from blogging?

Who wouldn't, right?

You can literally make tens of thousands PER MONTH when you get good at blogging. The possibilities are endless.
---
To do this, though, you need followers.

---
Without a loyal fanbase, you're not going anywhere.

Luckily, it's easier than ever to build an audience with a tool called Medium.

---
In 6 weeks, I can get you your first 1,000 true fans.

---
Here's a couple screenshots of my Medium journey.

My First Month On Medium..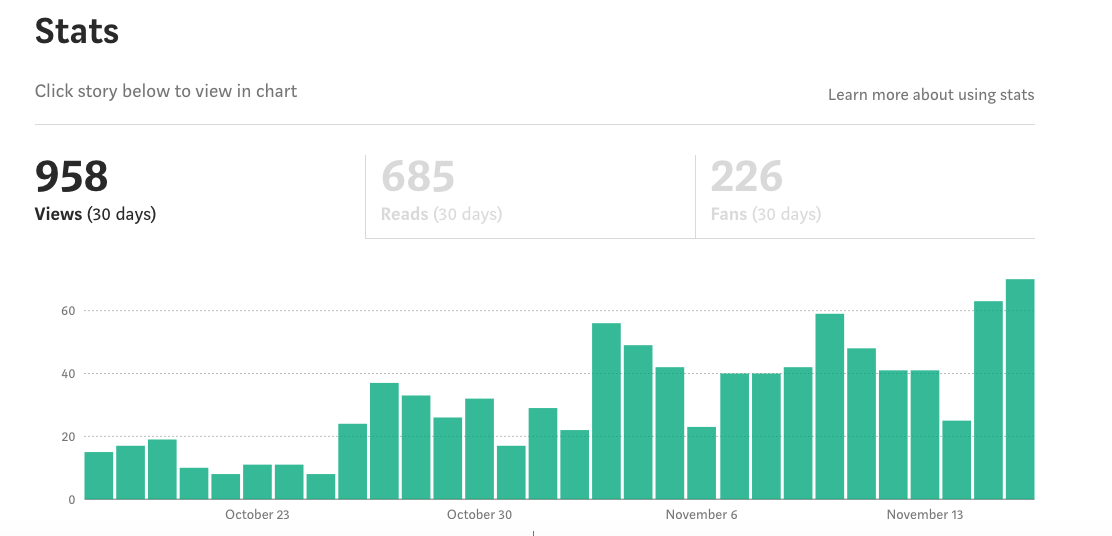 My Third Month On Medium...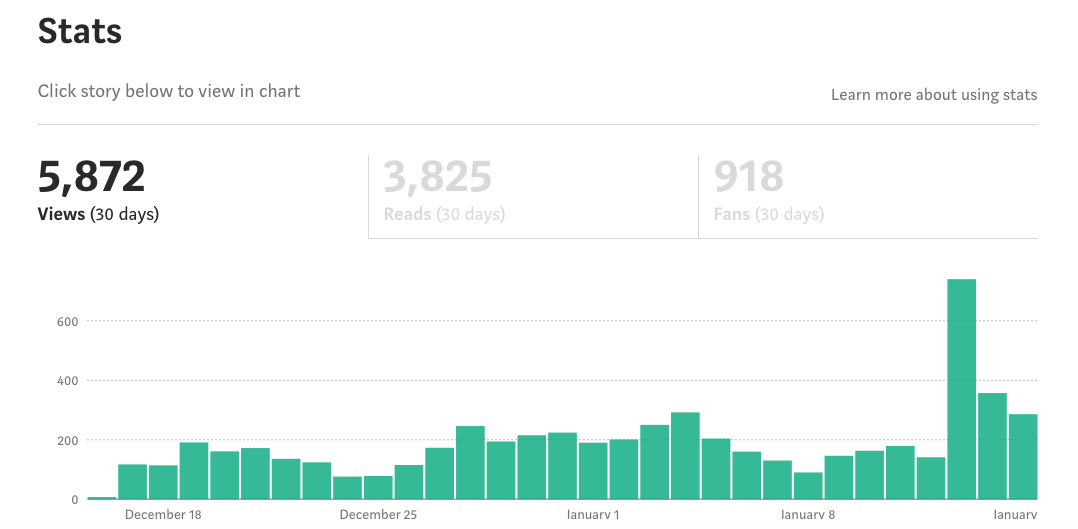 15 Months Later..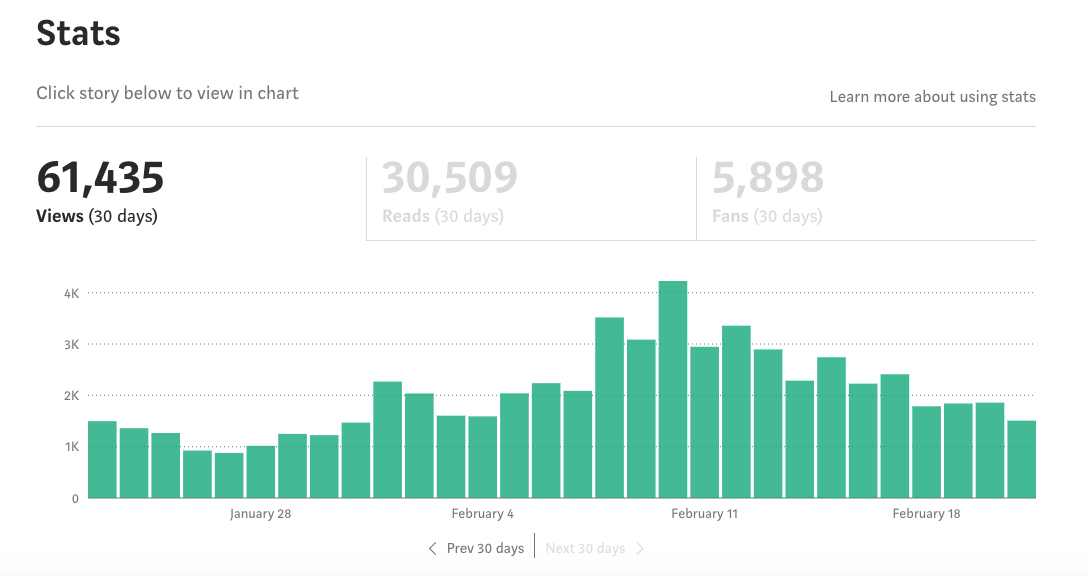 26 Months Later..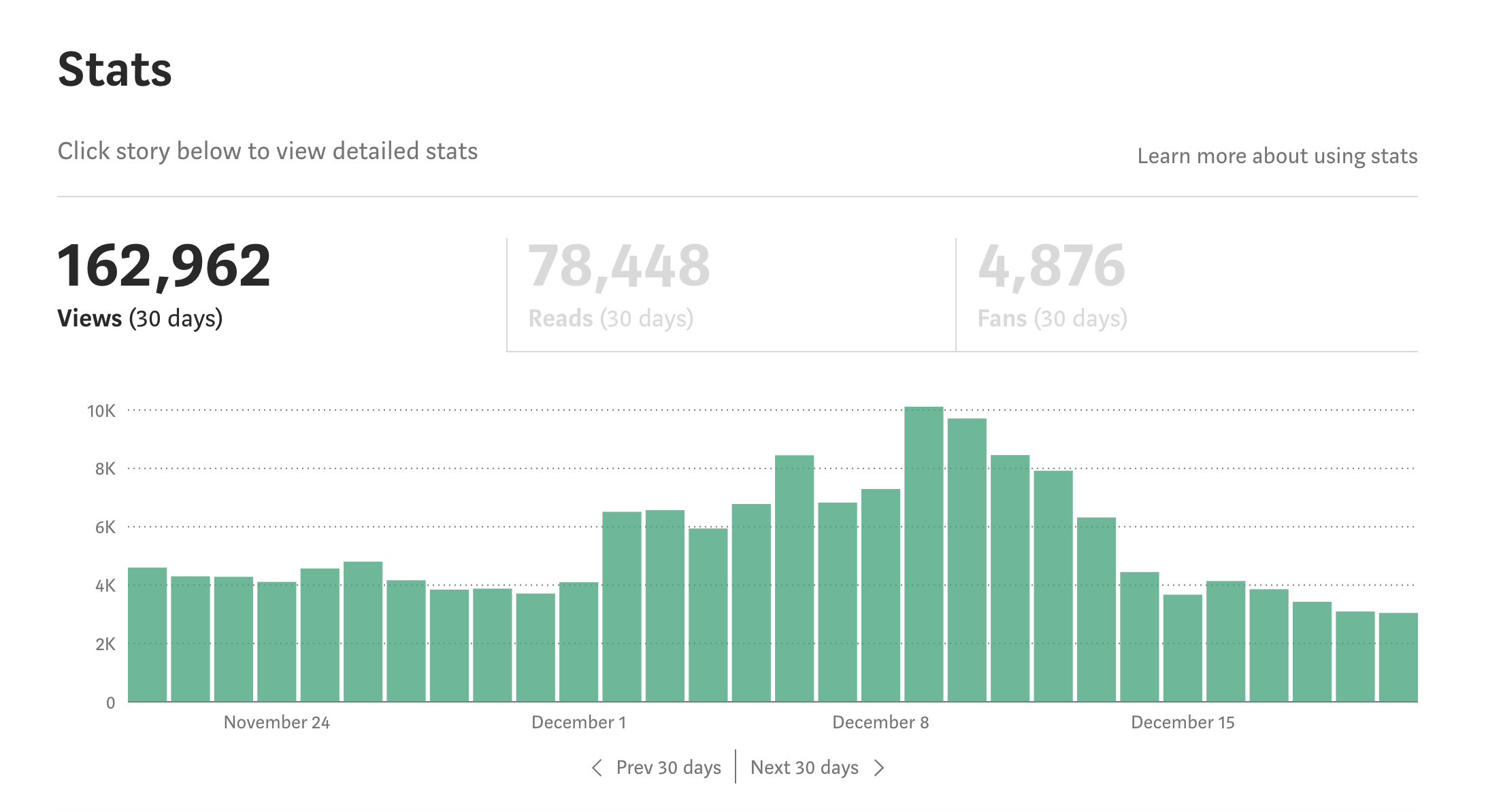 Because of my following, I was able to make $3800 in one month with the Medium Partner Program.

---
---
It's a fact: Your income as a blogger comes directly from your following.

When you're done this course, you'll have:

Hundreds of dollars coming into your pocket every month from Medium.

Fans emailing you saying they LOVE your writing.

1,000 followers on Medium.
12 of my BEST blog post templates that you can use ANY TIME.

A platform on Medium that you can then use to grow on LinkedIn, Instagram, Youtube, and Facebook.
---
The best part? You'll probably be able to pay for this course over the next 5-10 weeks.
---
How?
The Medium Partner Program (Read more about it in the FAQ's below).
Enough about that, what can you expect to learn?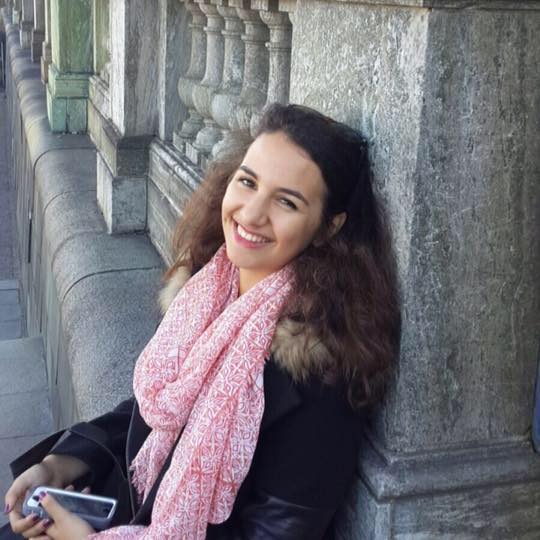 "Tom was the best thing that happened to me on Medium. He started reading me and championing me out of mere generosity, and his advice and support led me to grow from 100 followers to 2,000 in less than a month.

Beyond the numbers, he has been my go-to at every moment of doubt, and acted as a catalyst to push me forward in my blogging journey."
- Laila Zouaki, Editor of Success in Failure, Top Writer on Medium

Course Curriculum


(10+ Hours of Video Lessons)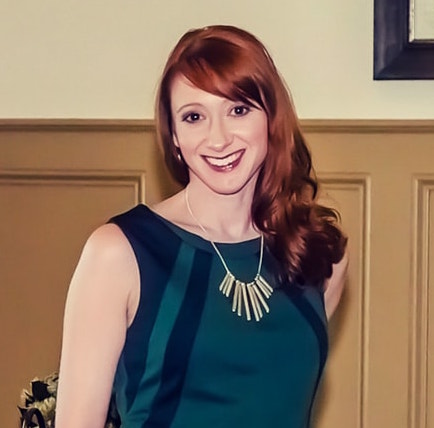 "Tom's Medium Mastery program is one of THE BEST online programs I've ever taken! Unlike others, his is packed full with tangible advice that, when followed, doesn't just give you immediate results, but also lasting results.
His passion for teaching along with his skills and knowledge about how to write specifically for Medium made this program top notch!"
- Lori Bumgarner, owner of paNASH Passion & Career Coaching and published author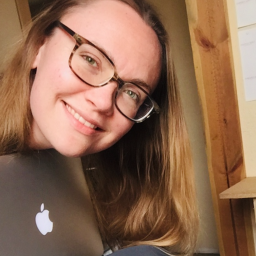 "In the past year or so I've spent ~$2000 on courses. Medium Mastery has by far been the most effective.
Here's why:
Even though the course is self-paced, you send out weekly emails to keep everyone on track.
The information is organized in a chronological fashion, not by subject. This helps warm newbies up to the platform gradually, without seeming overwhelming. You get to build on your skills as you develop them.
You use Slack instead of Facebook. I personally have a really hard time interacting consistently on Facebook groups (I don't use the platform that much anyway). Slack is the way to go, in my opinion.
You're an actual human who is reachable and gives a crap. You interact with your students, engage in the community, and are there to provide feedback."
-Amanda Luketa (1,500 Medium followers)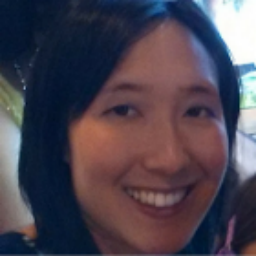 "I love Tom's honest, direct, simple style of writing. But more than that, he's genuine, caring and positive. He always responds to emails. I happily paid to learn more from him.
The course transformed my next year on Medium! I learned how to get curated more often, build a following, and of course, improve my writing. Best of all, the course offers an ongoing active community that's nurturing with ongoing updates and a wonderful bunch of supportive writers.

Tom, I can't thank you enough for sharing your helpful expertise and experiences. For your perpetual support and care. You go over and beyond. It has made all the difference. If you're serious about writing on Medium, you've got to do this course and join this community. Cheers!"
-Cynthia Marinakos (3,500 Medium followers / Top Medium Writer in 4 categories)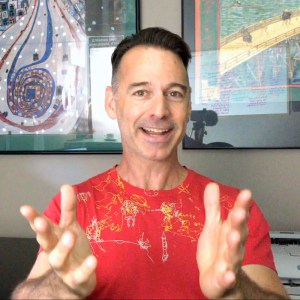 "I have paid for many private Facebook groups, webinars, and online coaching programs of 3-12 months. Tom delivered one of the best programs in the shortest periods of time I've ever taken. Whatever you're paying for the program right now, it's actually worth 2 to 3 times that amount.
Tom is an expert on the Medium platform. He knows what you need to do, how you need to do it, the tools you'll need, and strategies depending on your goals. You only need to see his follower counts and stats as further proof of his experience and expertise.
In my four years as a blogger, I gained at best 200 subscribers. In four weeks (not years) I gained over 500 new followers on Medium, and I launched my own publication, Th-Ink Queerly."
- Darren Stehle, Founder of Th-Ink Queerly
1. A Community Slack Channel

Everyone who registers will enjoy a community Slack Channel moderated by me where they can network, share their articles, provide feedback to one another, and become a tight band of friends who support each other's work well into the future.
---
2. 12 Blog Post Templates
I've broken down some of my best-performing articles from the last two years for YOU to follow--paragraph by paragraph. It's never been easier to write articles!
---
3. Two BONUS Modules With 4 Hours Of Video Content
You'll also receive two bonus modules teaching you how to make money as a blogger, and how to start your very own email list. 4+ hours of video content are yours to get for free.
Your Instructor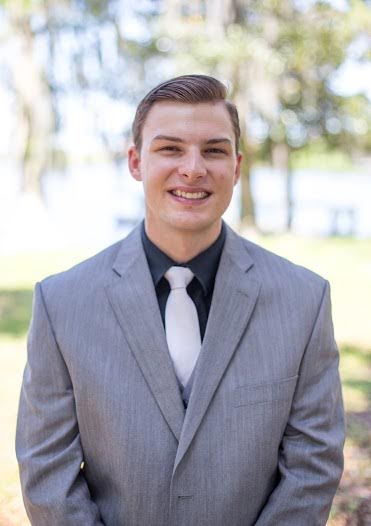 I am a 28-year-old Digital Nomad who loves traveling. I've been a contributor at Thought Catalog, Elite Daily, Diply, The Huffington Post.

I am an expert on Medium, and have over 55,000+ followers there at the time of this writing. I also have over 16,000 followers on LinkedIn and run my own 30-day sprints there every few months.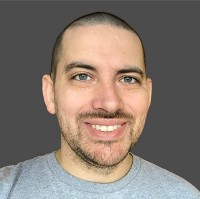 Alumni Nate Miller gained 800 followers, became a top writer in 3 categories, and made $400+ in one month three months after taking Medium Mastery.
Frequently Asked Questions
How long do I have access to the course?
How does lifetime access sound? After enrolling, you have unlimited access to this course for as long as you like - across any and all devices you own. There's a 90% chance I'll be creating additional lessons in the future, and you'll have access to them as well, free of charge!
What if I am unhappy with the course?
We would never want you to be unhappy! If you are unsatisfied with your purchase, contact us in the first 14 days and we will give you a full refund, HOWEVER... NOTE: I DO NOT appreciate people who buy my course, steamroll through 95% of it, then ask for a refund as if they were unhappy. I can see how many lessons students have watched and their overall progress. Refunds will NOT be valid if you've consumed more than 70% of the course in the first 14 days.
What is Medium?
Medium is part social media platform, part blogging platform. I like to call it Twitter, except you post articles instead of "tweets." You can follow people, get their articles on your homepage, and write your own articles as well.
How can I make money with the Medium Partner Program?
On Medium you can post "locked" articles which only Medium Members can see. Those with Medium Memberships pay $5 per month to read unlimited locked stories from their favorite authors. If these members "clap" for your story (the equivalent of a "like" on Facebook), you get a small portion of their membership fee for that month as a reward. So, the more followers you have, the more Medium Members are likely to see your articles and consequently "clap" for your them as well.